Team Member Spotlight: Joel
Actions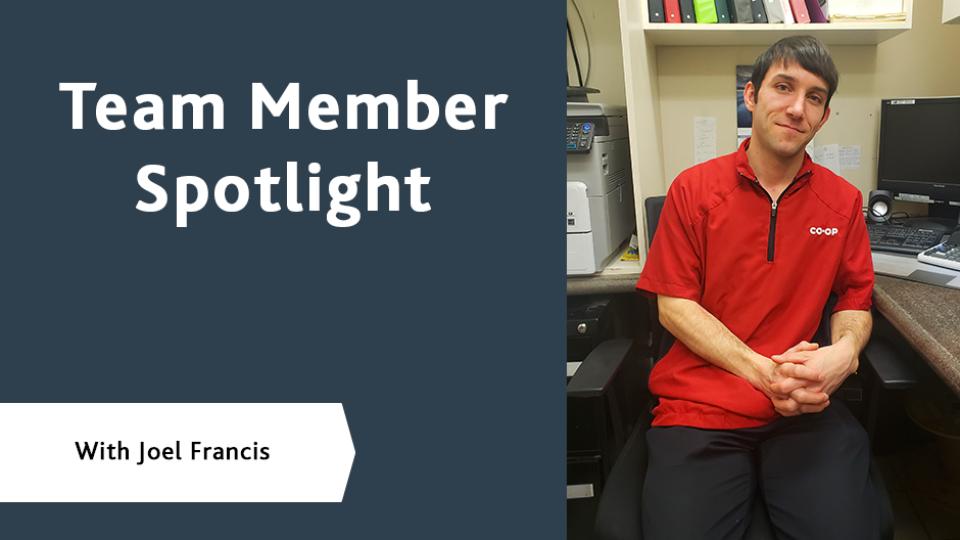 Team Member Spotlight: Joel
January 22, 2020
Meet Joel Francis,
He is the Gas Bar Supervisor at our Lac du Bonnet location! You might think supervising a gas station in cabin country is pretty laid back, but that's never the case for Joel.
"This place definitely keeps me on my toes!"
Joel's busy day consists of running the daily cash reports, checking important emails, ordering stock, and covering on pumps all while supervising his staff. No matter what the day brings him, Joel is always eager to get the job done!
Joel started with us in 2017 as a senior clerk. Shortly after his hire, Joel expressed desire to turn Co-op into his career! He completed his Advance training and has been the Supervisor in Lac du Bonnet for 2 years now.
As Supervisor, Joel is always helping out his staff and customers. One thing is for sure… If you need directions, the Lac du Bonnet Gas Bar is your best place to ask.
"We give out a lot of directions"
Joel has many fond memories with the Lac du Bonnet Gas Bar. Transferring over to the new Co-op Coffee program, completing his Advance training, and of course being promoted to Gas Bar Supervisor.
"The day I was promoted was an awesome day!"
When Joel isn't working, he's usually spending time with his wife and children. Joel also has some amazing talents! Those talents include dancing, singing and acting. One fun fact about Joel is that he acted in a production for the Winnipeg Fringe Theatre Festival!
Being apart of a small community is nothing new to Joel. Growing up in Whitemouth & Elma really taught Joel the importance of being community minded.
"Co-op means being a part of the community, which is very important especially for smaller communities"
For the past 2.5 years, Joel has had the chance to connect with all of his customers. By far Joel's favourite part about working for Co-op are the customers he serves.
"It's amazing getting to know them, they care about us!"
Next time you're in Lac du Bonnet, stop by the Gas Bar and say hello to Joel!

Discover more: