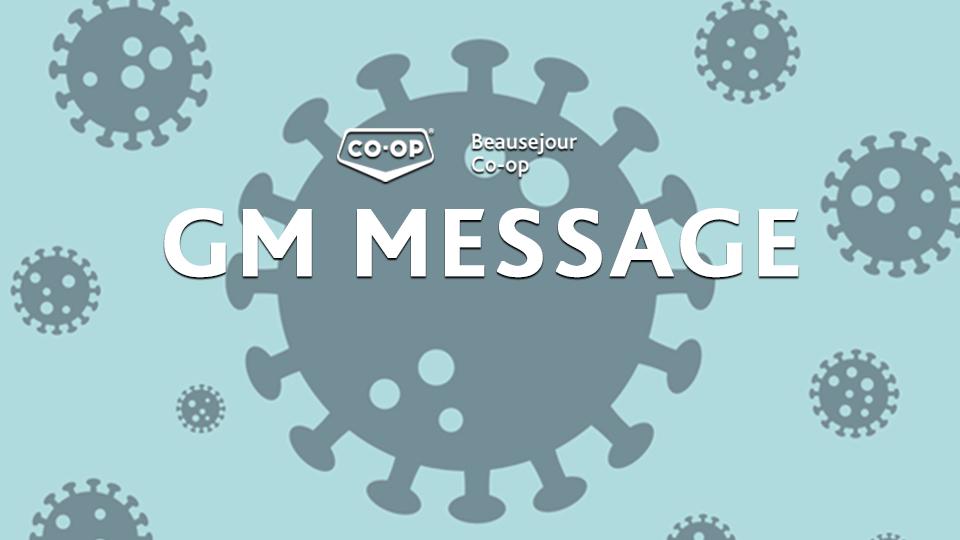 GM Message: Covid-19
March 17, 2020
At Beausejour Co-op we realize that the novel coronavirus (COVID-19) pandemic has everyone feeling uneasy, especially as we face more changes to our daily routines and future plans.
We know that your main priority is keeping your family safe and ensuring that you have the essentials. Beausejour Co-op is taking steps across all stores to help our communities stay safe and healthy. Our stores are cleaned and sanitized daily as part of normal business, but we are also increasing the frequency of cleaning.
Our food stores have been much busier over the past few days and I want to let you know that we are doing our best to stock up on the products that you may need. We know that outages are frustrating and we want you to know that we are working closely with our suppliers to ensure that we are replenishing as quickly as possible. To allow everyone to get what they need, we occasionally put limits on the number of high demand products that a customer can purchase at one time.
Our food stores have also taken the following precautions in effort to keep our members and employees safe & healthy:
Protective guards installed at checkouts for safety separation between customers and our employees
No more reusable bags (You will not be charged for plastic bags)
Every Tuesday & Thursday from 8AM-9AM, ONLY guests who are aged 60+, have a mobile disability or those with compromised immune systems are encouraged to come and do their shopping
We are also working with employees to ensure that they have current information on prevention so they can stay healthy or stay home if they are feeling ill. These practices are informed by Health Canada and the World Health Organization. You are encouraged to keep informed on prevention by visiting Health Canada , WHO and other helpful resources.
Just like you, we are doing the best that we can to navigate these uncertain times as they continue to evolve. We are working to help protect the well-being of our customers and our employees and are very appreciative of your patience through this evolving experience.
Kevin Van Den Bussche
General Manager
Discover more: