Community Support Fund Winners
Actions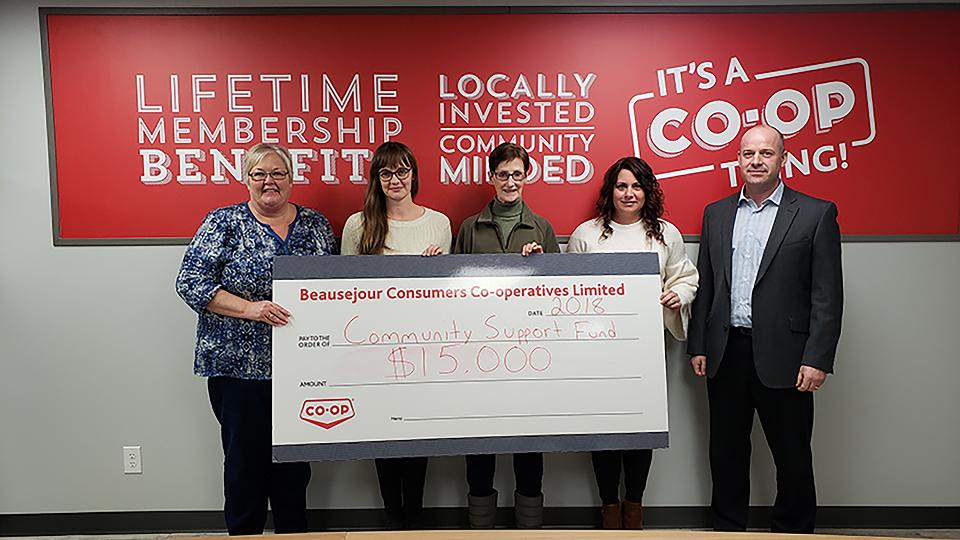 Community Support Fund Winners
January 17, 2019
Beausejour Co-op recently donated a total of $15,000 between four local organizations as a part of the Community Support Fund Program. The Community Support Fund aims to provide financial assistance to community groups that improve the quality of life in our local communities. Individual projects are eligible to apply for funding between $1,000 and $10,000. After receiving all the applications, a selection process began in fall of 2018 with volunteer representatives from across Beausejour Co-op. The four local organizations that were chosen to receive funding were: Lac du Bonnet Slo Pitch, Lac du Bonnet Trails Association, Survivor's Hope Crisis Centre and the Tyndall Village Community Centre.

Each organization has a unique project that will improve the quality of life in their respective community. The Lac du Bonnet Slo Pitch league plans to build a permanent building at the baseball diamonds to host a wide variety of outdoor activities and events as well as, provide a safe and all-weather shelter for the outdoor activities that are facilitated by other community groups. The Lac du Bonnet Trails Association finished creating a paved walking trail named the Great Trail. Their funding will be used to provide benches at rest stops along the route of the Great Trail through the RM of Lac du Bonnet, and also to provide bear-proof garbage cans at certain points along the trail. The Survivor's Hope Crisis Centre is focused on ensuring that our population knows about the crisis support services that are available through their SARAH (Sexual Assault Recovery and Healing) program. Updated posters, brochures, cards and website will allow us to share online training resources and supports that better equip rural service providers, family, and friends who respond to those who have experienced sexualized violence. The Tyndall Village Community Centre plans to run a biweekly kids club where children gather, meet new friends, engage in physical activity, complete an art project and enjoy a healthy snack.

Beausejour Co-op is beyond excited to work with each organization and help them meet their project goals!
Stay tuned for the 2019 Community Support Fund details.