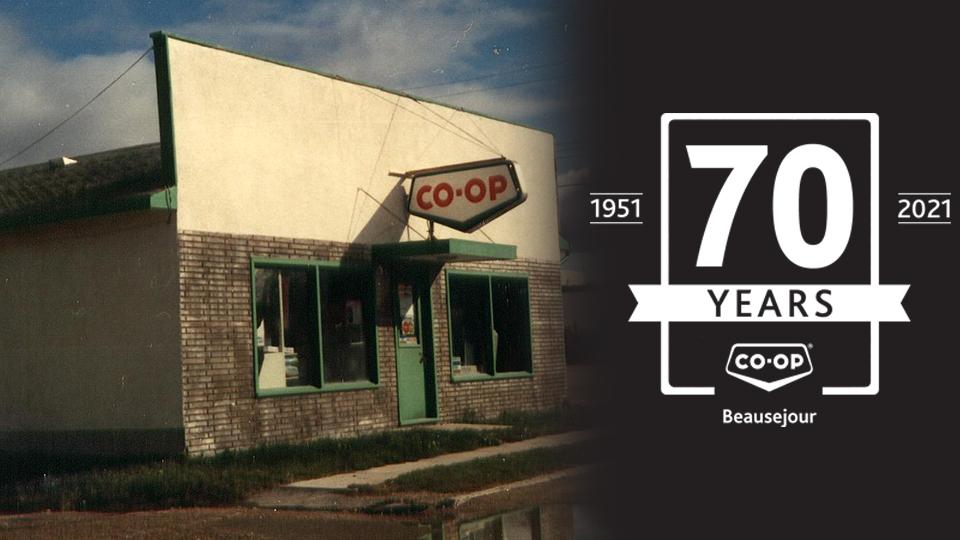 Celebrating 70 Years
May 12, 2021
Beausejour Consumers Cooperative Ltd. celebrates a major milestone this year—70 years serving local members and guests! Since 1951, Beausejour Co-op has served Beausejour and its surrounding communities.
The first year of operation saw the Co-op sign up 70 members at a cost of $50 per membership and achieved sales of $23,000. The original store handled groceries, oil, gas and other miscellaneous supplies. Since that first year of operations, Beausejour Co-op has grown to 15,000 active members and sales over $60 million. Beausejour Co-op has returned over 20 million dollars to our membership over the last 15 years.
Important Celebration Campaigns
Celebration Kickoff

—

May 13-May 26
2nd Celebration

—

July 8-July 21
Final Celebration

—

October 17-October 23
Each celebration campaign will have special offers, in-store draws and giveaways! Anniversay Prize Packs containing: 70th Anniversary apparel, 1 water bottle, 1 $70 gift card and 1 FREE regular car wash coupon will be awarded to all winners of in-store draws & giveaways. Stay tuned to learn more about what Beausejour Co-op has planned for their 70th Anniversary.
Facebook Trivia Contest
Beausejour Co-op will be holding a Facebook Trivia Contest during every celebration campaign. Each correct answer will be entered to win a 70th Anniversary Prize Pack! Make sure you follow us on Facebook and comment the correct answer on our trivia posts. For full terms and conditions, please read the attachment below.
Discover more: