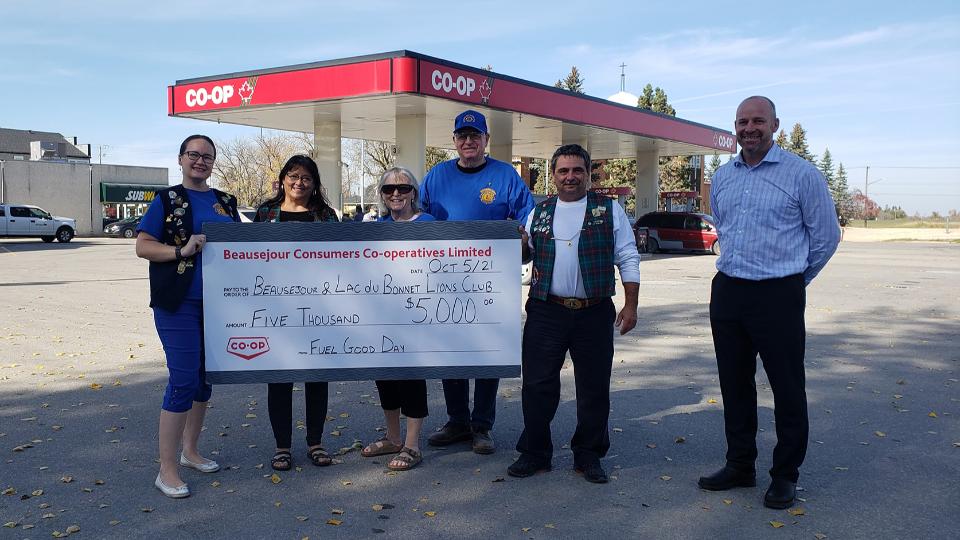 2021 Fuel Good Day Results
October 6, 2021
On September 21st, our members fuelled up to support the community!
Thanks to your support, Beausejour Co-op has donated a total of $5,000 to the Beausejour & Lac du Bonnet Lions Clubs as a part of Fuel Good Day! On September 21st, 10 cents from every litre of fuel purchased at Beausejour Co-op gas bars was donated to these organizations. In addition to that, Beausejour Co-op also donated $1 from every Co-operative Coffee & Big Cool slush drink purchased.
The Beausejour & Lac du Bonnet Lions Clubs empower volunteers to serve their communities, meet humanitarian needs, encourage peace and promote international understanding. These clubs are places where individuals join together to give their valuable time and effort to improve their communities. Like many organizations, the COVID-19 pandemic has taken a toll on the Lions Clubs. Both clubs remain optimistic for 2022 and can't wait to start regularly serving the community.
This was Beausejour Co-op's fifth year participating in Fuel Good Day and thanks to the efforts of our locations in Beausejour, Lac du Bonnet and Pinawa as well as our customer's support, the total donation over the past five years has exceeded $25,000 of local donations!
Fuel Good Day was celebrated at more than 400 Co-op gas bars throughout Manitoba, Saskatchewan, Alberta and B.C, with each local Co-op supporting a community organization or initiative. This year, Co-ops across Western Canada raised of $594,000 from Fuel Good Day!
THANK YOU!
Visit www.fuel.crs to view a full list of supported organizations.
Discover more: