2021 Community Support Fund Winners
Actions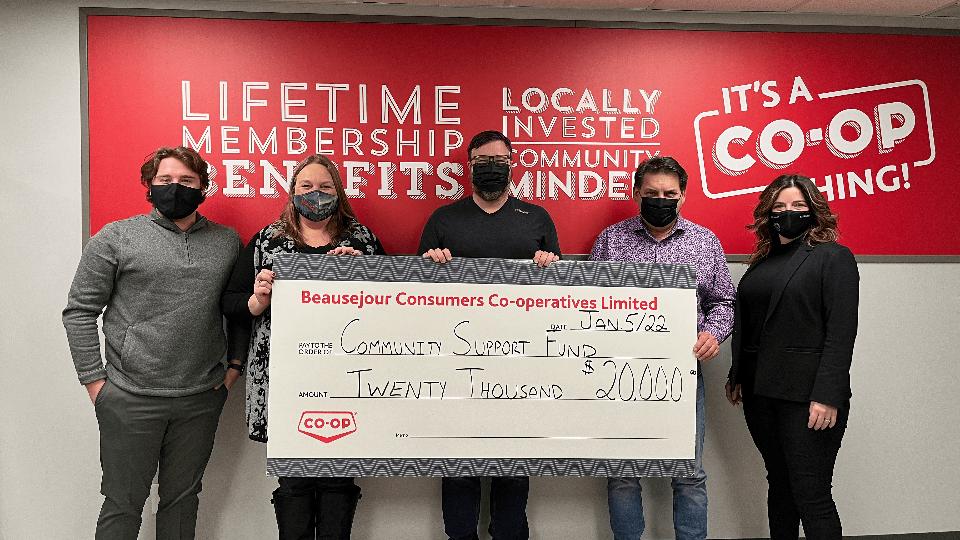 2021 Community Support Fund Winners
January 7, 2022
Beausejour Co-op recently donated a total of $20,000 between three local organizations as a part of the Community Support Fund Program!
The Community Support Fund aims to provide financial assistance to community groups that improve the quality of life in our local communities. Individual projects are eligible to apply for funding between $1,000 and $10,000. Since 2017, Beausejour Co-op has donated $90,000 to local organizations through the Community Support Fund Program!
The 2021 Community Support Fund was a HUGE success as we had an overwhelming amount of applications! After receiving all the applications, a selection process began in late fall of 2021 with volunteer representatives from across Beausejour Co-op.
The results are in....
The winning organizations and their projects for the 2021 Community Support Fund are:
Beausejour Ringers Ringette

The Ringers will use their funds to purchase 75 new jerseys for the U10, U12, U14 and U16 teams.


Pioneer Village Museum

PVM will use their funds to purchase and install a new tin roof on the historic Edward Schreyer Barn which they moved from the original Schreyer homestead four years ago.


Lac du Bonnet Community Development Corporation

The Lac du Bonnet CDC are currently developing a 33km long skating walking and skiing trail, running along the Winnipeg River system. Once complete, this will be the longest ice trail in the world!

Beausejour Co-op is beyond excited to work with each organization and help them meet their project goals!
We would like to say a HUGE thank you to all the amazing organizations who applied and a HUGE congratulations to the three chosen!
Stay tuned for the 2022 Community Support Fund details.
Discover more: