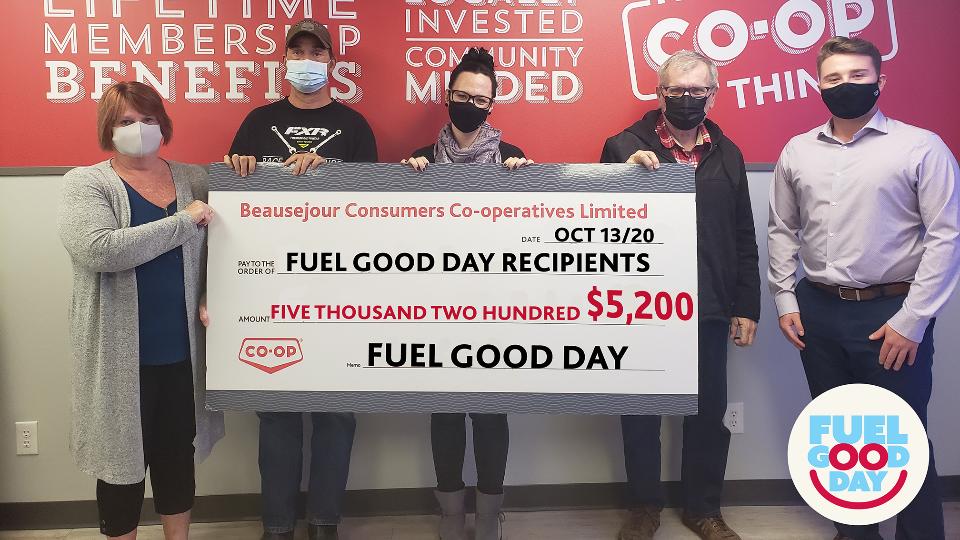 2020 Fuel Good Day Results
September 18, 2020
On September 15th, our members fuelled up to support the community!

Thanks to your support, Beausejour Co-op has donated a total of $5,200.00 to the Association for Community Living (Beausejour Branch), the Beausejour Kids Centre and the Lac du Bonnet & District Historical Society as part of Fuel Good Day! During the day, 10 cents from every litre of fuel you purchased at Beausejour Co-op Gas Bars were donated to these organizations. In addition to that, we also donated $1 from every Co-operative Coffee and Big Cool slush drink purchased.
ACL is a non-profit organization that is committed to delivering person centered supports and services that provides adults with a developmental disabilities the opportunities to lead the life that they choose. The Beausejour Kids Centre is a provincially licensed child care centre which provides care for children aged 12 weeks to 12 years. The Lac du Bonnet & District Historical Society is the primary agent for the assembly and preservation of the history of Lac du Bonnet & area operating the Lac du Bonnet District Museum & St. John's Heritage Church and Arts Centre.
This was Beausejour Co-op's fourth year participating in the event and thanks to the efforts of our locations in Beausejour, Lac du Bonnet and Pinawa as well as our customer's support, our total donation over the past four years has exceeded $20,000 of local donations! Fuel Good Day was celebrated at more than 400 Co-op Gas Bars throughout Manitoba, Saskatchewan, Alberta, and British Columbia, with each local co-op supporting a community organization or initiative.
This year we are proud to announce that Co-ops across Western Canada have donated over $565,000 from Fuel Good Day!

Discover more: